Tyvärr finns denna sida inte på ditt språk. Prova att översättta med t.ex. Google översätt. Var uppmärksam på möjliga felöversättningar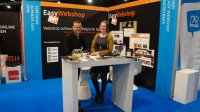 We look back on two successful exhibition days and a successful online shop training course!
We were surprised by the many inspiring stories of our customers: entrepreneurs with a story and a vision. We also made a lot of new contacts, both starting merchants and existing merchants wanting to switch to EasyWebshop.
The strong growth and the satisfaction of our customers allows us to further invest and make EasyWebshop even better. For the upcoming months we have planned some interesting updates for your online shop. Stay tuned at our news channels!